Machining with the highest precision
Milled parts order online and have them manufactured
Easily order CNC milled parts online. Fast service with attractive prices. You will receive a free test certificate with every milling order. Upload CAD file and receive quote within 48 hours
1.000
Satisfied customers

Your partner for machining CNC milled parts
CNC24 is your professional manufacturing partner around turning and milling of solid materials. With modern machinery, excellently trained employees and many years of experience, we are your No.1 contact when it comes to CNC parts.

Modern production and machinery:
Our machinery is designed to meet the challenges of Industry 4.0. With the shortest cycle times, tightest tolerances and any number of pieces, we are able to meet any demand. Our range of services includes:

Comprehensive CNC machining(Computerized Numerical Control) from semi-finished to finished part
Processing of large formats up to 10,000 mm in length
Production from quantity 1 to any desired quantity
Low tolerances in consistent quality
Wide range of material and alloy

The contract manufacturing of your milled parts is realized by CNC24 on the most modern 3-axis and 5-axis milling machines. In our machining centers, we mill all machinable materials such as aluminum, non-ferrous metal, steel, stainless steel or plastic according to your requirements. Only wood is eliminated. Through our request form, you can send us a drawing and get a price calculation within 48 hours.
72 hours Express delivery
Milled parts by Express: When time is of the essence
Your machine has broken down, an important spare part is missing or your customer requires a prototype? Call us. We are at your side when things have to move fast. With our special lightning service, we have already been able to save many of our customers' projects. Quality, service and customer proximity are the secret of our success. We will be happy to assist you as well, no matter how urgently you need your milled parts.
Milled parts machining – Full service for you
As a professional company, we specialize in machining the turned and milled parts from raw material. We offer you in addition:
Finishing of prefabricated parts in highest precision
Finishing, grinding and polishing to the desired grade
Quality control of the created workpieces according to ISO 9001
Comprehensive advice and support in the implementation of your milling work.
You tell us what you need and we deliver it to you. It's as simple as that. We orient ourselves entirely according to your specifications. With the help of ready CNC files, we can of course get into action especially quickly. However, if you need assistance in designing and customizing your milled parts, we are also here to help.

With a highly competent team of engineers, technicians and professional machinists, we develop any desired component for you. We provide you with precisely fitting components that fit perfectly into your applications. This makes us your high-performance partner for all aspects of modern applications.

With our equipment and expertise, we can help you with the following challenges:
Reverse Engineering
Rapid Prototyping
Convert 3D scan data into milling files
Complete design of milled parts on modern CAD programs.

With this range of services, you will always be one step ahead of your competitors. Where others have to maintain CNC milling machines, you can outsource those resources to us with peace of mind. We deliver "Made in Germany" as a service. Try us, you will be thrilled.
Get a quote for your parts
We will send you a suitable offer within 48 hours
Why CNC24
Your advantages
Flexible and free capacities at any time
Attractive prices for all components
Quality control according to ISO 9001:2015

One contract and contact person for all manufacturing processes

Digital processes with personal contact person
You have the choice
Our delivery times
Offer within 48 hours

Standard production in 15-20 working days

Express service in 6-12 working days
Super express service in 72 hours
Perfect components in just 3 steps!
Make a request
Upload production drawing and specify order. You will receive your offer within 48 hours.
Quality control
We find the right paver, supervise production and take care of quality control in our in-house measuring center.
Components received
You receive your quality-tested components including detailed test certificate.
Get a quote for your parts
We will send you a suitable offer within 48 hours
Material selection
We chip everything

We can offer you the current technically feasible manufacturing quality for every material. With us, you will always find the right combination of expertise, production machine and processing tool. This enables us to produce high-precision milled parts from any material in the same quality for which we are so highly regarded by our customers.

We set no limits to the processing of your products. Turned parts, milled parts: Anything that can be machined, we will make milled parts of your choice from it. Our processable materials include:
All steel grades in numerous alloys
All machinable non-ferrous metals
Heavy and light metals from copper to aluminum
Plastics of all kinds
On request, even composite materials such as GFRP and CFRP.
CNC Milling
Technical data
Traverse paths:
X-axis: up to 10,000 mm
Y-axis: up to 4,300 mm
Z-axis: up to 1,250 mm
Tolerances:
from +/- 0.005 mm
Surface roughness:
Ra 0.8 – Rz3.2
Lot sizes:
from 1 piece
Machines
Modern 3- and 5-axis milling machines
File formats
PDF, STEP, STP, DXF
Our materials
Available materials
| | |
| --- | --- |
| Aluminum | Ceramics |
| Bronze | Plastics |
| Stainless steel | Copper |
| Steel | Brass |
| Casting | Titanium |
| Hard fabric | other materials on request |
| Inconel | |
Quote for your components
We will send you a suitable quote for your components within 48 hours
Milled parts from professionals: tightest tolerances, consistent quality, any number of pieces
As a service provider for CNC milled parts (the abbreviation CNC stands for Computerized Numerical Control), you are always a bearer of secrets. We are fully aware of this. Total reliability and discretion is an integral part of our core business. We do not chase the "fast Euro", but rather convince our customers in CNC milling through absolute reliability, integrity and trustworthiness. With us at your side, your data and products are protected from prying eyes. Call us, we would like to gain your trust as well.

Maximum convenience when requesting and placing an order:
As a modern company, we are of course fully networked with modern media. Protected by an impenetrable firewall, we can securely receive, process and return your data to you.

With our always up-to-date IT equipment, we take the field of "CNC components" to a whole new level. We manage this without sacrificing performance and comfort for you. The data transfer from us to you and vice versa is very easy, lightning-fast and absolutely secure against unauthorized access.
What we produce
Sample components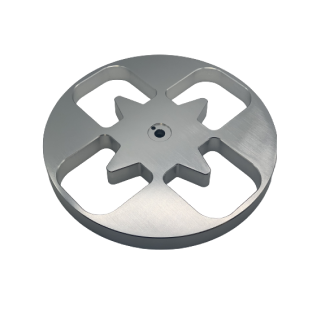 Quote for your components
We will send you a suitable quote for your components within 48 hours
CNC milling process: All work steps at a glance
Preparation
1. prepare semi-finished products
Cutting processes such as sawing, laser cutting, flame cutting or waterjet cutting are used to prepare the turned material – the semi-finished products.
Setup time
2. set up machine
In order to prepare the machine tool for the production of the milled part, all necessary semi-finished products as well as turning and milling tools are clamped. Experienced and highly qualified employees speed up the process.
Programming
3. CNC programming
The machining program (NC program) tells the CNC machine how to use the tools to create the finished part from the semi-finished product. With modern computer-controlled system infrastructure, programming is done with CAM software.
Manufacturing
4. manufacture turned part
After preparation, the actual CNC machining takes place in main and secondary steps. Main steps, such as cutting the material, sometimes require more time. Non-productive times, such as for tool changes on CNC milling machines, must be kept short.
CNC24 is the leading portal for CNC manufacturing in Europe
CNC24 simplifies the procurement of CNC turned and milled parts.

CNC24 is your specialist and contact for prototypes, single parts, small series as well as for higher quantities. Our know-how in CNC turning and CNC milling, our own experience in manufacturing, a Europe-wide network of partners and the CNC24 quality management according to DIN EN ISO 9001:2015 make us your competent partner.
CNC24
The easiest way to order components