Machining with the highest precision
Precision parts
Request & order online.
CNC24 is your partner for precision components in all machining and non-cutting production processes. Simply order your components online. Fast service with attractive prices. You will receive a free inspection certificate with every order.
1.000
Satisfied customers

Precision parts from CNC24 – Quality is a matter of trust

The production of CNC precision parts is a matter for specialists who are committed to the highest possible quality. For us, quality is not only what our customers want.

It is also our mission. Our ambition is to always exceed our customers' expectations. We know how important the adherence to tolerances, surface finishes and all other specifications is necessary for the success of a production.

Therefore, trust us, our competence and our experience around precision parts to also lead your project to success.
CNC24 – Your specialist for the production of complex CNC precision parts

CNC means being able to produce almost any shaped workpiece in any quantity with modern machinery. Consistent quality, strictly in accordance with our customers' specifications, is our mission.

With a company policy focused on quality and service, we have been able to delight every one of our customers so far. Through the successful processing of many orders, we have been able to gain experience that equips us for any challenge in the future.

We offer modern automatic lathes and milling machines with which we can produce your precision parts in any contour. Our machinery is always state of the art. This allows us to move into ever narrower areas of tolerance.

This already makes us a top precision parts supplier for the particularly demanding sectors of the automotive industry, special machine construction, aerospace, and medical technology.
Get a quote for your parts
We will send you a suitable offer within 48 hours
Perfect components in just 3 steps!
Make a request
Upload production drawing and specify order. You will receive your offer within 48 hours.
Quality control
We find the right paver, supervise production and take care of quality control in our in-house measuring center.
Components received
You receive your quality-tested components including detailed test certificate.
Why CNC24
Your advantages
Flexible and free capacities at any time
Attractive prices for all components
Quality control according to ISO 9001:2015

One contract and contact person for all manufacturing processes

Digital processes with personal contact person
You have the choice
Our delivery times
Offer within 48 hours

Standard production in 15-20 working days

Express service in 6-12 working days
Super express service in 72 hours
Get a quote for your parts
We will send you a suitable offer within 48 hours
Your advantages
Highest quality standards & service orientation for your precision parts

Could we make you curious? Then describe your concern about your precision parts to us using our contact form. The more precisely you formulate your project, the more accurately we can prepare a preliminary offer for you.

Only a short time passes from your inquiry to the preparation of a quotation. Service and transparency are our top priorities. We will discuss the details for your precision parts together in a follow-up meeting until all questions have been clarified.

Our company is fit for the requirements of Industry 4.0. Send us your plans digitally and let us inspire you with our performance. We are only satisfied when we have won you over – and preferably permanently.
Material selection
Which components and materials can be machined?
Our machinery and engineering covers the entire spectrum of materials commonly used in mechanical engineering. These include: Steel, stainless steel, aluminum, copper, brass, various alloys and all types of plastics.

In addition to manufacturing from semi-finished products and blanks, we are also happy to accept finished products for further material processing. If your own machinery could not achieve the desired tolerance of the precision parts, come to us.
With high-precision surface processing, we bring every product to the desired size.
What we produce
Sample components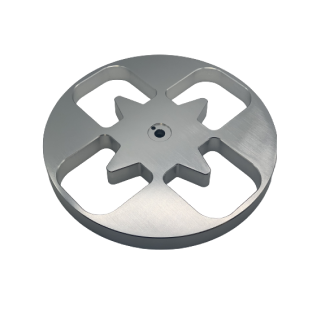 Surface treatment
We get the best out of your components
Refinement, appearance, protection against wear and corrosion prophylaxis of the turned components are as much part of our core business as the production of components.
Sandblasting
Paint
Anodizing
Powder coating
Electroless nickel
Galvanizing
Passivate
Chromate
Your partner for all components
Other manufacturing processes
FAQ
Important questions
How is your precision parts manufactured?

Download your production drawing incl. 3D model (CAD drawing) and specify your request. Within 48 hours you will receive a suitable offer for your components.

Describe your request to us, even for complicated inquiries. We turn, mill, drill, grind, finish and polish until your workpiece is exactly as you need it. We guarantee this for prototypes and small series as well as for mass orders.

Trust our competence and our experience. With CNC Teile 24 you have found the service provider for your demanding challenges.
What manufacturing methods does CNC24 offer?

As a full-service provider, CNC24 offers all modern CNC manufacturing methods supplemented by sheet metal processing and additive manufacturing in 3D printing as well as injection molding and die casting from a single source.

Our manufacturing methods for precision components
– Turning
– Milling
– Sheet metal working (bending, punching, water jet cutting, laser cutting)
– 3D printing (metal and plastic)
– Injection molding
– Die casting
When things have to move fast: CNC precision parts by express

A service provider lets them down, the machine breaks down or important employees become ill – production can already come to a standstill. The consequences are delivery delays, penalties and, in the worst case, the loss of the customer. Don't let it get to that point. With us on your side, you will get your products in the desired quality even if it has to happen very quickly. Our production is always oriented for emergencies and special works. Therefore, rely on our CNC Express Service with a delivery time from 72 hours – For sheet metal parts, milled parts and turned parts. You will be thrilled.
Have more questions?
CNC24 is the leading portal for CNC manufacturing in Europe
CNC24 simplifies the procurement of CNC turned and milled parts.

CNC24 is your specialist and contact for prototypes, single parts, small series as well as for higher quantities. Our know-how in CNC turning and CNC milling, our own experience in manufacturing, a Europe-wide network of partners and the CNC24 quality management according to DIN EN ISO 9001:2015 make us your competent partner.
CNC24
The easiest way to order components