Protection, refinement and functional enhancement
Surface treatment
The widest range of surface treatments on the market. Component finishing, corrosion protection and component marking at attractive prices. One contact for component manufacturing and surface treatment. Upload CAD file, specify part and receive quote within 48 hours.
1.000
Satisfied customers
Finishing
Surface treatment makes the difference
Surface treatments can do more than just look good. Nowadays, hardly any material can fulfill all the requirements placed on it on its own. The finishing of surfaces is therefore important and necessary depending on the intended use.

CNC24 offers a wide range of high-quality surface finishes in its CNC manufacturing program. We also implement surface treatments professionally as a separate finish for already delivered mechanical components.
Largest selection of surfaces
All surface treatment at a glance
Ablative and forming surface treatment
Brushes
Electropolishing
Glass bead blasting
Vibratory finishing
Engraving
Shot peening
Laser engraving
Laser polishing
(Electro) polishing
Sandblasting
Grinding
Electrochemical coating with electroplating technology
Anodize
Electroless nickel
Chromate
Thick film passivation
Bright zinc plating
Passivate
Phosphating
Gilding
Copper plating
Silver plating
Galvanizing
Tinning
Coating without electroplating
Burnishing
Anodizing
Chromate
Enameling
Paint
Hard anodizing
Oxidize
PTFE coating/Teflon coating
Powder coating
Chemical surface treatment
Pickling
De-anodizing
Degreasing
Nitriding
Plasma nitriding
Thermal surface treatment
Hot dip galvanizing
Hot-dip tinning
Hardening
Boundary layer hardening
Remunerate
Quote for your components
We will send you a suitable quote for your components within 48 hours
What we produce
Sample components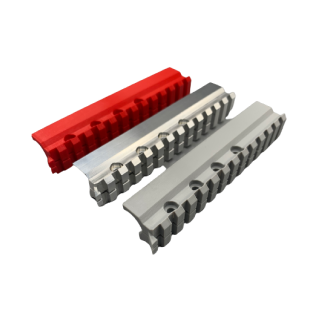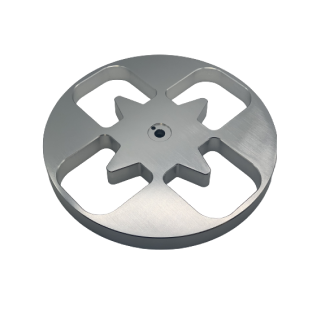 Good to know
Background information on surface processing
What does surface technology actually mean?

Surface technology has a long tradition. For example, as early as 4,000 BC, people began working surfaces of gold for decorative purposes. And for hundreds of years, blacksmiths have known that freshly forged swords cool best in piles of manure.

There, the surface layer of the steel is enriched with nitrogen, which increases the material's hardness. The surface professionals at CNC24 have not been in the business quite so long. Nevertheless, we have internalized the knowledge and procedures of surface technology in decades of experience.

Strictly speaking, surface technologies supplement the classic four manufacturing processes with two additional methods. They add coating and adjustment of material properties to the process classes of forming, reforming, splitting and joining.
Where are the areas of application in industry, construction and trade?

Whether as a single part or in series production – our surface treatments prove themselves both in prototypes and in mass production. To achieve this, lathe operators, metalworkers, toolmakers and surface finishers routinely work hand in hand at our company.

The results of our treatment processes are used in a wide range of industries. In principle, all branches of industry, construction and trade that process sheet metal and metals benefit from this. This applies to both the production of goods and the consumption of tools and operating resources.

Our customer base is particularly strong in the automotive industry, mechanical engineering, the construction industry, producers of fastening technology, the electrical industry, medical technology, industrial and plant engineering, laboratory technology and aerospace. Of course, we also manufacture for any other industry.
Special advantages of our surface treatments

As a CNC manufacturing partner specializing in metal and sheet metal processing, we mainly realize surface treatments for sheets and metals. Especially those that make metal surfaces harder and more resistant to abrasion and damage.

But also those that improve the resistance of sheet metal to corrosion. And, of course, equally those for purely decorative purposes. Especially for sheet metal and metals, professional surface treatment is often a decisive factor for an extended service life.

From the customer's point of view, this is not only a functional advantage for the intended use. It is a quality feature. The high quality of our surface treatments pays off for the customer. It is a real added value.

Steel, for example, as used for car bodies, has a good price/performance ratio and excellent crash behavior. But, unfortunately, it is not resistant to corrosion. Stainless steel, on the other hand, is corrosion resistant but far too soft and expensive.

The best solution is then the steel body with corrosion protection of the surfaces, obtained for example by treatments such as grinding, galvanizing and painting. Another great example is the production and use of drills.

If drills were made directly from ceramic, they would last an extremely long time. But ceramic is brittle, which would be rather detrimental to its intended use as a drill. For this reason, the basic mold is now made of steel, and we provide the necessary wear protection during finishing with a ceramic coating, for example.
Delivery time, manufacturing process and service

Not only does CNC24 perform the surface treatment itself with high processing speed, great accuracy and easy replicability. The same applies to customer service and order processing. CNC24 always remains the first and only contractual and contact partner for the customer.

The average delivery time of separately ordered surfaces at CNC24 is 15-20 working days. If surface treatments are integrated into a regular production cycle of CNC finished parts from the outset, this period is of course not added on.

Delivery times incl. Surface processing

Standard production in 15-20 working days
Express service in 6-12 working days
Super Express service in 72 hours


If external subcontractors are involved in the production process, only qualified specialist companies are used. CNC24 regularly and intensively checks itself as well as all its partners and suppliers for the highest quality standards.

In addition, each order is checked again separately for all customer-specific manufacturing tolerances and quality characteristics before shipment. Wherever it says CNC24, it only contains tested CNC24 quality.
CNC24
The easiest way to order components